"Without inner peace, outer peace is impossible." - Geshe Kelsang Gyatso
Where to Begin?
The best place to start is with one of our meditation classes. Each class is self-contained so you may join us at anytime.
Learn More
Download Modern Buddhism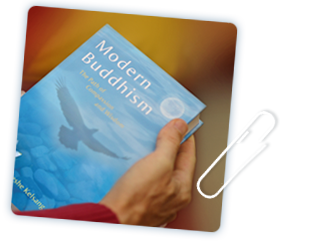 A free eBook by Geshe Kelsang Gyatso.
Learn More
Buddhism & Meditation in New Mexico
Kadampa Meditation Center New Mexico is located in Albuquerque and is the main Center for Kadampa Buddhism in New Mexico. Everyone is welcome to find refuge from the challenges of busy modern life, receive clear, practical advice from Buddha's teachings, and gain inspiration from spiritual friends including Buddhist monks and nuns. We invite you to relax, reflect and rejuvenate at this spiritual oasis in the heart of the city.
KMC New Mexico offers a full program of Buddhist meditation classes, in-depth study programs and retreats to help increase our compassion, love and wisdom. The methods and practices are suitable for every level of interest. They enable us to find more peace of mind and the happiness and meaning that we long for in our lives.
Gift & Bookstore Open Hours
Monday – Friday: 10:30 am – 1:30 pm and 2:00 pm – 5:00 pm
Saturday: 10:00 am – 1:00 pm and 1:30 pm – 4:00 pm
Sunday: 9:30 am – 4:00 pm
Everyone is welcome to visit the center and bookstore or to attend our meditation classes.