MEDITATION COURSES IN ALBUQUERQUE
Thursday Nights | 6:30PM–7:45PM /
In-Person
July 7 - August 11
Overcoming Anger

"Anger is one of the most common and destructive delusions, and it afflicts our mind almost every day."
-Geshe Kelsang Gyatso Rinpoche-
Even if we don't relate to ourself as an angry person, if we check carefully, we will likely notice that we do get irritated, agitated, disappointed or discouraged at least from time to time. All of these states of mind make us unhappy and can lead to full-blown anger or even rage.
In this series, we will learn to recognize anger in our mind and deeply understand its faults from our own experience. Understanding the nature of our mind and how anger arises will allow us to gain control over this destructive delusion. Instead of simply reacting to situations, we will learn how to respond with a peaceful, clear mind of patience. In this way, eventually, we will be able to solve all our human problems.
Topics may Include:
What is Anger?
Why we Get Angry
A Healthy Approach to Anger
How to Deal with Disappointment
Practicing with Patience
Responding Effectively to Criticism
Main Texts:
How to Solve Our Human Problems
---
CLASS STRUCTURE
Each class includes guided meditations, teaching, and time for Q&A (not available for online-only classes). A brief introduction of the topic will be presented followed by a guided meditation to settle the mind, the main teaching, and a closing guided meditation.
The main teaching will cover the class topic. It includes an explanation of Buddhist practices and methods to apply them to your daily life through meditation, contemplation, and effort. Reference to particular pages in books may be offered. It is not necessary to have the coursebook in order to benefit, but you may find it helpful. Further reading is always encouraged.
Each teaching ends with another guided meditation specifically to help students take the teaching to heart and be able to begin to practice on their own what they've learned in class.
This course is suitable for all levels of experience.
Although it is beneficial to attend the entire series, you may drop in at any time. Classes are held weekly.
---
ABOUT THE BOOK
In this busy world, our experiences of happiness are fleeting and short-lived, while inner peace eludes us completely. Our negative states of mind, such as uncontrolled desire and anger, create endless problems for ourselves and others, and prevent us from fulfilling our deepest wishes. Geshe Kelsang begins by presenting Buddha's popular teaching on the Four Noble Truths, which offers a clear and simple solution to all our problems, guiding us to an oasis of peace within our hearts. He then focuses in particular on overcoming the problem of anger, learning how to develop and maintain patience when faced with even the most difficult circumstances.
How to Solve Our Human Problems can be purchased from our bookstore. Please contact our Treasurer, Brian Worthen, for details: 505-999-8656. It can also be purchased online at Tharpa.com.
---
$10/class
Free for all KMC New Mexico monthly members. Become a monthly member for $35/month and get unlimited weekly meditation classes
You can pay in advance for this week's class using the link below.
Thursday
Everyone Welcome!
---
About the Teacher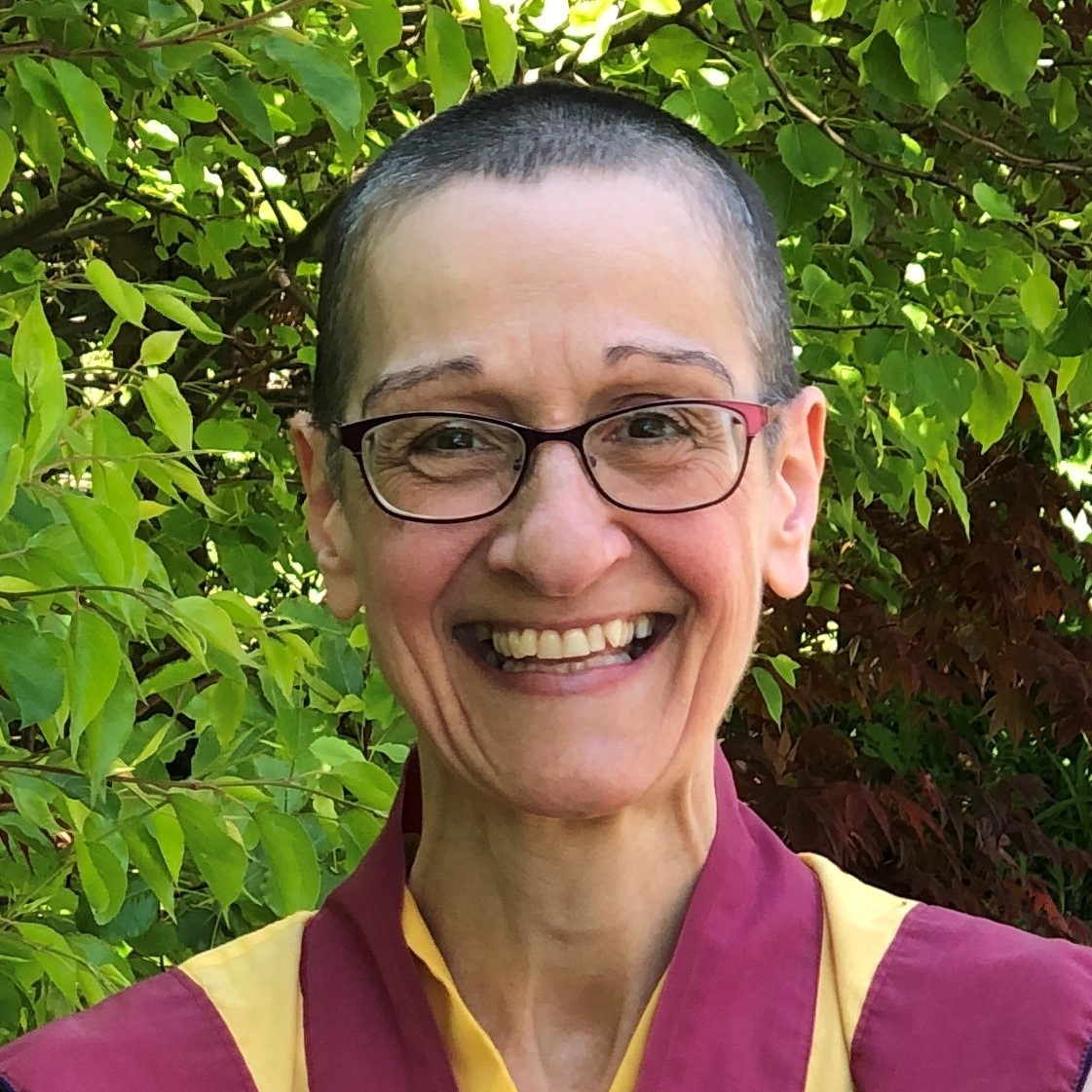 Gen Khyenwang is the Resident Teacher of Kadampa Meditation Center New Mexico. She is a close disciple and student of Venerable Geshe Kelsang Gyatso and has been practicing and teaching under his guidance for many years. The teachings she shares are clear, heartfelt and extremely practical for modern life. Gen Khyenwang is an inspiring example of a contemporary Buddhist practitioner and is known for her warmth and sincerity, putting time-tested teachings into practice in daily life.
Location
**Class is available IN-PERSON **
142 Monroe St NE
Albuquerque, NM 87108